I just found these on my Facebook and I can vaguely remember making them, I just have no idea why! But I thought they looked like they'd fit in here so I am sharing them with you :)
Left to right: Day dress with contrast turn back cap sleeves and belt, 1946; Sun dress with high neckline & bolero with sailor collar, 1941; Back of previous sun dress (from same pattern envelope), 1941; Evening blouse with extended sleeves and button up back, 1948; Gathered blouse with square yoke and full sleeves, 1941; Evening gown with sweetheart neckline (enhanced by dress clips) and gathering at bust, belted waist and peplum, 1945.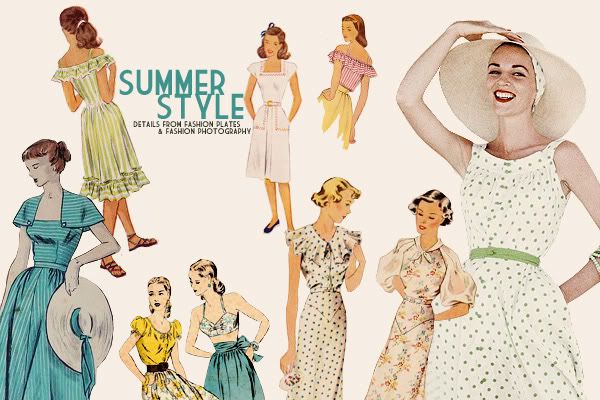 Left to right: Sun dress with button-on capelet and full skirt, 1948; Off the shoulder gypsy dress, 1947; Gypsy peasant top and full skirt; Bikini top and wrap around full skirt, both 1946; Sun dress with square neck, large pockets and embroidery detail, 1947; Off the shoulder peasant blouse, 1947; Long sleeveless dress with butterfly ruffle collar, 1935; Long dress with tie collar and blouson sleeves, 1935; Button down sundress with bodice gathered to round yoke and full skirt, 1954.
I love this way of putting together inspirational images and I'd forgotten I ever made these. I'll definitely have to do some more of these sort of inspiration collages in future.