Title: oscar time!
Posted: Sunday, 26 February 2012 @ 15:40
Actually, to be completely honest, there's only one award I've ever shown any real interest in (although I still stay up for the Oscars, despite the fact that they generally finish at about 5am GMT). I love love love costume design so that award is always the one I'm fascinated by and spend time researching. And I usually have a favourite but this year it's a bit more wide open than usual. Anyway.
The things that make for really great costume design for film are historically accurate silhouette (obvious!), a certain theatricality, great use of colour and character (for instance Scarlett O'Hara wouldn't wear the same dresses as Melanie Wilkes) and also suitability to the actor or actress wearing them. I think one of the greatest winners of this award of late that captured all these elements so wonderfully was Marie Antoinette.
Milena Canonero captured the era perfectly but at the same time she was not a slave to 100% period accuracy which I think can sometimes hold back designers for the screen. Like I said, the important thing is silhouette - also choosing the right fabrics can make difference between seeming like something a real person would wear and seeming a bit, well, costumey.
This year's nominations are varied although interestingly 3 of the nominees are films set in the 20th century. There are also a few Oscar newcomers nominated this year which is really exciting to see as someone who loves costumes and new talent. So here are my thoughts on this year's picks.
Anonymous
- Lisy Christl
Prior to researching for this post, I'd not really seen much of the costumes in this film but I have to say that I love them. I think one of the most interesting things about them is that, as you can see from the images I've chosen of Vanessa Redgrave & Joelly Richardson, the film follows the character of Elizabeth I in both youth and old age and we can see how her character progresses through her costume, from the much simpler earlier looks to the ostentatious and dramatic costumes worn by the elder Elizabeth. However, both of them share a love of finery and awesome wigs. I think I might have to watch this film just for the costumes (I am actually an Oxfordian aka someone who believes that the plays of Shakespeare were written by the Earl of Oxford but I think this film looks like they're trying hard to make people not believe in that theory!).
The Artist - Mark Bridges
I, like probably everyone else in the world who didn't walk out of the cinema upon learning this was a silent film (seriously, people did that), loved this film. However, I am here to talk primarily about costumes! Peppy wears some fabulous hats and some adorable dresses whilst George looks incredibly handsome in his evening suit. The costumes, I think, let the film do the talking (so to speak!) and aren't particularly in your face or theatrical - they just are there, in my opinion, not detracting at all from what is happening on the screen. My one major issue I have with this is that the film is set between 1927 and 1932 and anyone who knows anything about fashion history at this time knows that the silhouette of these periods is very different (the skirt moving from knee-length to ankle-length for daytime and floor-length for evening, the waist moving back up to its natural position from the upper hip) and the costumes for The Artist just do not demonstrate that at all. I appreciate that this probably doesn't mean much to most viewers of the film but I think it would have been a great way to show the passing of time and the change of the way of things that the film is all about! It's such a shame, really, that they didn't do that (and that they used a few modern details that they really didn't need to, such as invisible zips). But I still covet so many of the hats, oh my word.
Hugo - Sandy Powell
I've not seen this film and I found it really really hard to find pictures from it so I feel rather unqualified to speak on the costumes. Sandy Powell is the biggest hitter of the nominees this year, having been nominated ten times and won thrice, and the costumes certainly fit in with the overall look of the piece and work wonderfully with the set design - something that Powell is an expert at. But I wish I could have seen more of them. As it is, I feel a little as though they're only nominated because of who designed them.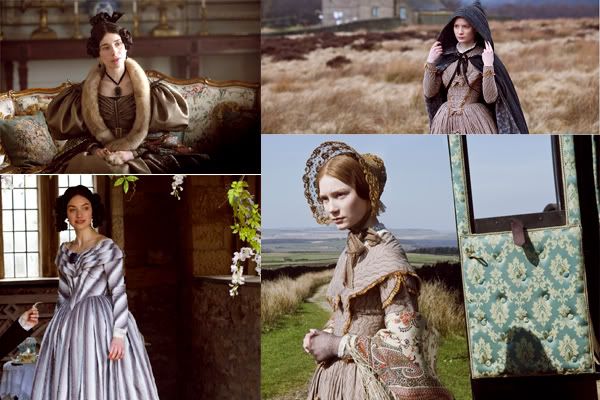 Jane Eyre
- Michael O'Connor
O'Connor is the king of period accuracy. His costumes always look a little like fashion plates from the era they are representing and I tip my hat to him. However, for me, I just do not see the spark of theatricality that I loved in the Anonymous costumes, for instance, and in Marie Antoinette. They are beautiful, undoubtedly, but I do not always feel like his costumes represent his characters as well as they might (for instance, I'm not sure there's a large enough contrast between Jane & Blanche in these images - they both look like something a fashionable lady of the day might wear, although I grant that Jane's gown is both more modest - but then it is a travelling gown - and more dour). But technically they are marvellous and his attention to detail is something I cannot fault. If I was looking at 100% period accuracy, these would win.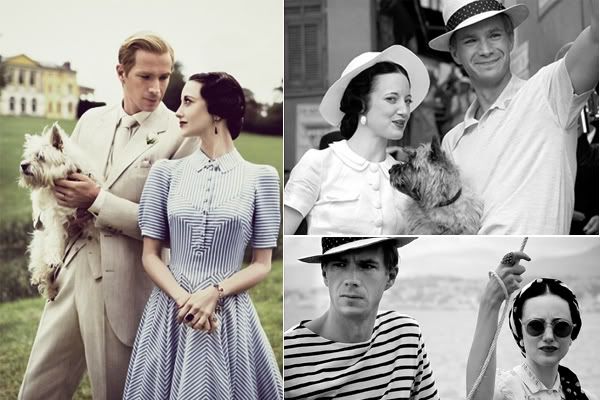 W.E.
- Arianne Phillips
What can I say? I love these costumes. Again, I've not seen this film, but I felt as though every time I looked at a picture from the film, I was able to understand something about the characters. Of course these characters are well known and their sartorial tastes are fully documented so I did know a little already but I think the ability to breathe new life into a real person who is quite well known and also to design clothes for someone many years after they died that look as though they would have worn them very readily - well, I think that is quite a remarkable skill. The costumes and the accessories go wonderfully together and Wallis & Edward's costumes complement one another so well. And if there was an award for best dressed male character of the year, I cannot doubt that Edward would win this.
So
dapper. Ms Phillips won the award for Best Costume in a Period film at the Costume Designers' Guild Awards so they are obviously well regarded in the industry. I will be interested in seeing how well they do tonight.
So how about you? What are your favourite costume designs - both of this year and of years past? Do you agree with my choices? Let me know!