When you're ill, you'd be surprised how your priorities change. One of the first things that you find you don't care about quite so much is how you look. After all, when you're spending most of your time in bed, who cares how you look? And if you don't wash your hair for a week, it really isn't the end of the world. But I confess that this gets rather disheartening. Sometimes, when I look in the mirror, I want to see
me
, not someone who is sick and tired. So sometimes, when I have a little extra energy and I know I don't have anything I need to do that will require that energy, I treat myself to some special pampering.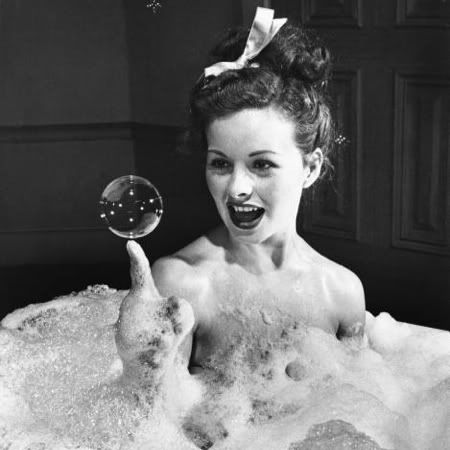 In reality, this isn't anything that I imagine most girls don't do on a regular basis - you know, a body scrub, a mani and pedi, all that sort of thing. But for me it's real luxury! Seriously, I think I ought to serve myself scones and champagne whilst I do this in future, hee ;) So much of the time I afford to making me feel good is usually spent on sleeping so doing something a little bit different is amazing.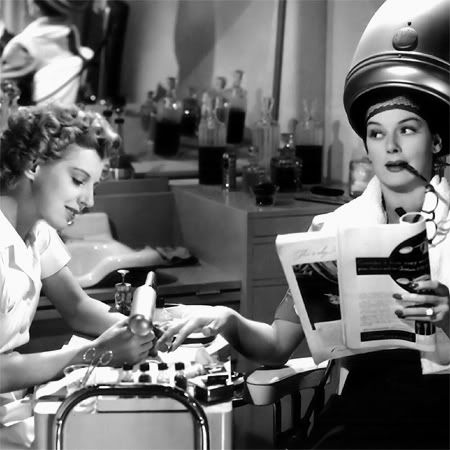 For some time, even pin-curling has been out of the question. I just don't have the strength in my arms to keep them up at my head for the length of time required and, with breaks, it was taking about four hours to get a pin-curl set. I don't know about you but I think that's slightly crazy. For a time, I just gave up trying to curl my hair but I've found a way to get a good curl set using the largest perming rods - I usually only use four around the back hairline and two at the front, somewhat lower down, to get a good, loose wave that really suits me and it takes ten or fifteen minutes to do. Not bad when any little bit of activity means that I'm likely to be worn out the next day or week. Anyway, in my last post, I promised I would post about my favourite lipstick when I managed to get a new one and seeing as I now have it and the matching nail varnish (how very 1940s I feel!) I thought I would give it a mini-review - nothing formal as I can't think of anything negative to say about it to be honest, it's just the one for me!
Max Factor Colour Elixir Lipstick in Ruby Tuesday
I bought this for the first time shortly before my wedding. I knew I needed the perfect red and I was having a hard time trying to find one. We have a MAC counter in the department store in town so I went in there and tried on the matte lipsticks that get a lot of attention in the vintage community - Ruby Woo & Russian Red - and I found I could scarcely get them from the tube onto my lips, no matter what I tried. The few smears that did stick felt like chalk. Perhaps I just have very dry lips and, as such, they and this lipstick wouldn't mesh. I don't know. All I know is that I was left feeling very down-hearted, so I wandered to the Max Factor counter where I saw these lovely little golden tubes, found the brightest shade of red and bought it along with the matching lip liner.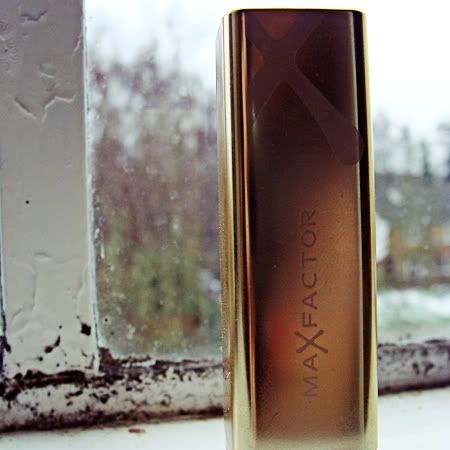 It is so perfect for me. As I do have dry lips, I need a little bit of moisture in my lipstick but this manages to look matte whilst ensuring that my lips don't actually fall off. It's also such a lovely shade of red - a bit deeper than some but still very bright red and without too much blue to be off-putting.
I'm wearing the matching nail varnish which has chipped because my nails always chip and I forgot to put on another coat before taking pictures.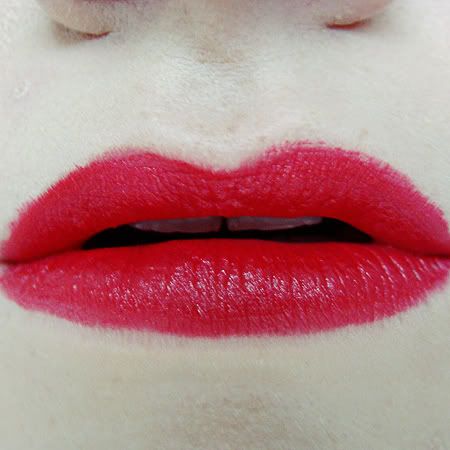 It really is not as shiny as this picture suggests - I was standing directly in front of a window and the direct sunlight really picked up on every little bit of moisture. Also, ehhh, feathering, I didn't use a proper mirror/good light when I put it on so I didn't really know what I was doing AND my arms are quite weak so they tend to be wobbly (which is why I almost never wear eyeliner - it never ever looks anywhere near perfect), oh well. It really is lovely and, to show that off, here are some sort of 'whole face' pictures which definitely show its texture and colour a lot more clearly - I think having a complete image is much better because the eyes can be deceptive with regards to colour if you see something in isolation.
I'm also showing off my
Belle Blossom of the Month
which is a little sunshine in my gloomy wintery days - and I love getting parcels, who doesn't? I'm amassing quite a collection of pretty hair flowers now, it's fantastic! I've always got something pretty to match every outfit. And it makes me feel like a Spanish señorita which I was somehow trying to mimic in these pictures - I'm not sure what the dodgy facial expressions were about!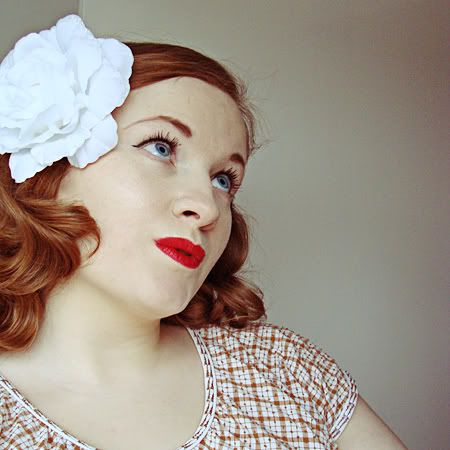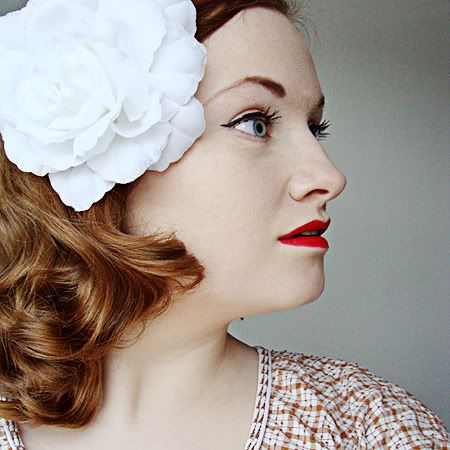 As an aside, I have a new blog layout! I hope you like it, I think it looks great and now I can actually view more than five posts without having to delve into my blog history!