I thought that a good way for my blog readers to understand me would be to post a series on my likes and dislikes. But then I thought that my dislikes are a little too broad and I guess a vintage girl's pet peeves are all alike. So I thought - why not cover things that people would expect me to like but I actually don't like that much at all? It's just a short list - for now at least, I might post more if I can think of more things! And then, hopefully over Valentine's Day, I'll post my loves, the things that drive me crazy for vintage and keep coming back.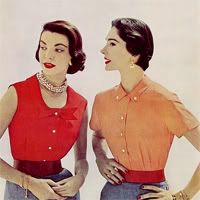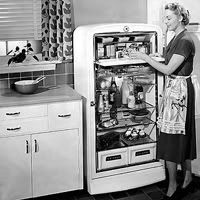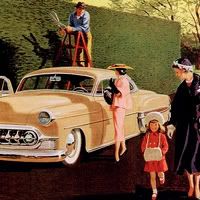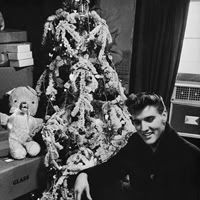 The 1950s
I really do not dislike everything about the 1950s. However, the era's image as a whole irks me. Partly it's a fashion thing - I much prefer the more simple lines of the mid-40s and 1950s fashion has this habit of appearing both juvenile and old-ladyish at once - and partly it's about ideals. Now I know of course that many women were in the workforce in the 1950s but, after the war, there seemed to be an attitude of presenting women in more traditionally feminine roles - in the home, in the kitchen etc. Of course the perfect housewife image dates from a lot earlier than the 1950s but there is a reason why we think of the 50s when we think of that whole idea. I guess, for me, the 1940s (and the 1910s!) are more exciting because it was a time when women got to do so much more than they ever had before and they got to break the rules of traditional gender roles a little.
I also don't like rock'n'roll, I'm much more of a traditional WWII era swing girl, and have absolutely no interest in Elvis. I swear, my musical tastes pretty much miss out anything between about 1947 and 1963, with the exception of the Everly Brothers because they're adorable.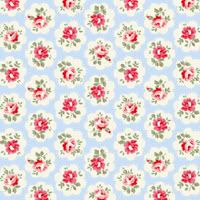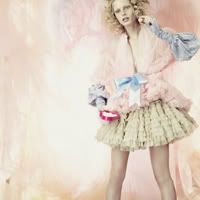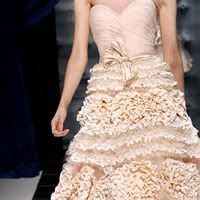 Twee
I hate twee. I hate girly-girly. I hate chintz and floral patterns (except highly stylised ones) and polka dots and ruffles. I hate frou-frou. Sometimes this is a hard one to explain because I love Edwardian fashion but I guess I can explain it best by saying that I much prefer the cleaner lines of the 1910s, when embellishment was primarily through the use of ingenious cut and incredible beading and embroidery, than through layers and layers of lace and ruffles. I think this dislike is something of a practical one because it just does not suit me. I'm not exactly old, I'm not quite 23, but I still feel like mutton dressed as lamb if I'm wearing anything too girly. And Cath Kidston, I hate to say it, just makes me want to puke.
I told you it was a short list ;)
(Images taken from
The Nifty Fifties,
Moth Girl Wings,
Hemmings Blog
,
Here She Sat,
You & Your Wedding,
Wedding Inspirasi,
The African Fashionista
&
Urban Outfitters
)